Our friendly Office Manager, Sandy, will take great care of you!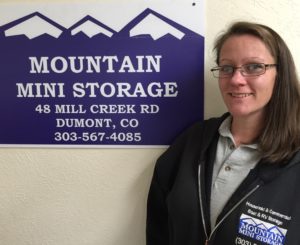 Mailing Address:
Mountain Mini Storage
P.O. Box 142
Dumont, CO 80436 
303-567-4085 Office
303-567-0687 Fax
303-638-0755 SMS/TEXT
1-800-229-2422 Toll Free
Email us:
admin@mtnministorage.com
Office Hours:
9:00 am to 1:00 pm Monday – Friday




After 1:00 pm, we are out at our different facilities and are




Available by appointment. Give us a call, we'd love to help you!

Closed on Holidays
Note: Prices listed are subject to change without notice. All sizes are approximate & do not indicate clear useable space. Customers are responsible for inspecting any unit before renting. Please visit our Forms Page for printable contracts, Lien Sale forms & more.